Why choose a topper?
Topper adapts the stiffness of the continental bed
eliminates critical bed pressures on body contact surfaces
favorably affects the quality of sleep
Toppers fundamentally adjust the stiffness of the continental bed, and thus the resulting feeling of comfort during sleep. A properly chosen topper should be pleasantly soft, with the ability to adapt to the shape of the human figure. The comfortable topper eliminates critical bed pressures on the body's contact surfaces, thus reducing muscle tension. This in turn has a positive effect on the quality of sleep, which is deeper and calmer. FERRETI offers three types of mattress toppers.
TOPPER VISCO
MINDFOAM® memory foam adapts perfectly to the curves of the human body. The topper is extremely comfortable and, thanks to the properties of viscoelastic foam, it also feels warm. TOPPER VISCO is especially suitable for people who prefer the feeling of a "warmed" bed.
TOPPER FIRM
CELLFLEX® foam is more rigid, but at the same time extremely elastic and well adaptable. This topper is designed for people who prefer to sleep on a stiffer surface.
TOPPER SOFT
It is extremely flexible and airy at the same time. The top layer of exclusive GREENGEL foam ensures maximum comfort and airiness. The bottom layer of CELLFLEX® foam provides the required support for the spine. This model meets all the requirements for an ideal mattress topper.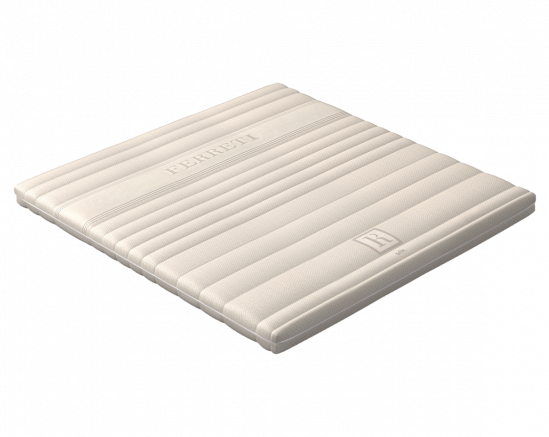 MATTRESS TOPPERS